Dr. Jason Lehr, DPM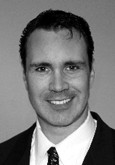 Dr. Jason Lehr, DPM completed his undergraduate degree and pre-medicine requirements at BYU prior to his acceptance to the California College of Podiatric Medicine where he was awarded his Doctor of Podiatric Medicine Degree in May of 1998. Immediately following graduation, Jason was accepted into a 2 year post-graduate Surgical Residency Program at the prestigious Los Angeles Metropolitan Medical Center. There, he completed hundreds of foot and ankle procedures ranging from simple ingrown toenails to advanced reconstructive surgery of the foot and ankle. Rotations in Internal Medicine, Vascular and General Surgery, Pathology, Radiology, Rheumatology, Emergency, Diabetic Care, Biomechanics and Foot and Ankle Surgery were also successfully completed.
Dr. Lehr possesses surgical skills, fluency in Spanish, and interest in Pediatrics all contributed to his appointment as the Chief Resident over the Baja Project for cripple children in Baja, Mexico. This project teams Orthopedic, Vascular, and other specialists to perform advanced reconstructive surgery for many needy patients – particularly children. Some of the advanced procedures Dr. Lehr performed while a member of the Baja Project were Clubfoot, Achilles Tendon Lengthening, Flatfoot Reconstruction, etc. Dr. Lehr has made several medical excursions to El Salvador for similar projects and was recently appointed by the Foot Institute's Continuing Education division to set up a program for crippled children in Central America. Jason will be organizing teams of interested Podiatric, Orthopedic, and other medical personnel equipped to perform reconstructive surgery for the many disadvantaged crippled children who would not otherwise receive this important medical attention.
Dr. Lehr has published a number of papers on topics such as foot pain in patients with fibromyalgia, and emoral nerve blocks in pediatric patients. He plans to continue researching similar topics of interest. Dr. Lehr is a member of the American Podiatric Medical Association, the California Podiatric Medical Association and the Alberta Podiatric Association. Jason, his wife and young daughter are excited to make their home in Calgary where Jason can pursue a number of his hobbies and interests such as motocross riding, water and snow skiing, ball sports, etc.